Southernmost tip area of the Satsuma Peninsula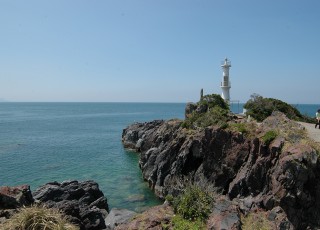 Along the coast of the Satsuma Peninsula you can feel the power from nature and the volcanoes.
Nagasakibana is thought to be the volcanic lava ruins of a volcanic eruption that occurred more than 10000 years ago. You can see these ruins in the headland vicinity of the black reef.
You can see the whole picturesque scenery of Fushime Coast and Mt Kaimon from the Osumi Peninsula on the opposing coast.
The hot spring waterfall that flows from above the cliff gushes out gases and water of about 100 degrees to the foreshore.
It is a rare occurrence in Japan where you can experience this volcanic activity.