Culture
■ Traditional performance art- "Kanmai"
Kanmai is a traditional dance from ancient times, performed as an offering at shrines. You can see it performed in Ibusuki at the autumn festival of gratitude for an abundant harvest. With the echo of flutes, drums and bells, the atmosphere is one of elegant simplicity.
■ Hirakiki shrine's 'Kanmai'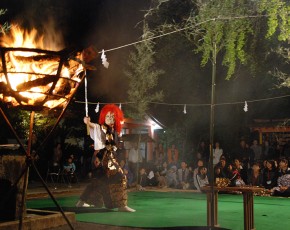 This dance takes place every year on the night before the autumn festival: the 14th of October. This Kanmai is the legendary dance about the first god to be written into Japanese folklore, it includes 4 majestic dances that men perform. This, along with the female (shrine maiden) counterpart, "Urayasu", is performed at the shrine.
The precious traditional clothing and masks that have been handed down through time are on display in the sanctuary of Hirakiki Shrine.
■ Minakata Shrine's Narikawa Kanmai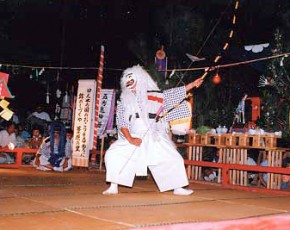 This Kanmai takes place from dusk until midnight every three years on the evening of the nearest Sunday to the 28th of October. It is an ancient traditional dance that has been performed for over 380 years. On the day, across Japan, 14 dances are performed as offerings to the gods at shrine ceremonies.
The Naijimai dance, one performed by small girls with bells, is particularly special since it can only be seen in Kagoshima.
(※ It was recently performed in 2011 at the Narikawa Resident Centre)
■ Unammei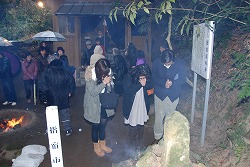 The Unagi area, where volcanic steam often rises, is often known by the nickname "hell".
The 16th of January is the day that hell's kettle lid is opened. On this day, if you visit the 'Jizoudou' hall you can meet those that passed away the previous year.
■ Tonnomottsui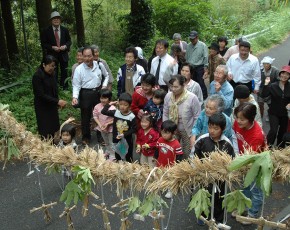 This is a rare event that takes place in May in the Unagi area of Ibusuki. Cows, horses and dolls, made of leaves and mochi, are hung across the roads like ropes.
In that area, it is thought that these items act as a barrier against bad things that may come in to the town.
■ Mendon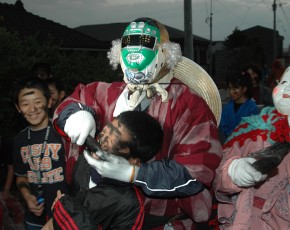 This unusual festival takes place on the third Sunday of every January. Midway through the portable shrine procession, people dressed as grotesque 'Mendon' appear, their faces blackened with soot, and swoop down on the onlookers. People run around cheering and shrieking. It is thought that if you apply soot to your face, you will be blessed with good health for the oncoming year.