Onsen
■ The History of the Onsen (Hot Spring Bath)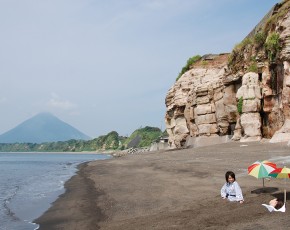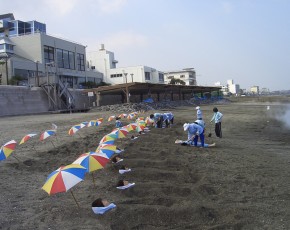 There are onsens throughout Ibusuki city.
The Sunamushi onsen style (steam sand baths) is highly unusual. So why do hot springs appear on these sandy beaches?
It is thought that boiling water flows from the inland area hot spring source to the coastline, were it naturally gushes forth.
Seawater also permeates the sandy beaches, but a boundary forms underground between the underground water and the seawater, resulting in the inability of the boiling water to flow past and out into the sea.
Sunamushi onsen was first referenced to in literature over 450 years ago by the Portuguese merchant Alvares, who wrote "The Japan Report". It contains the following text.
"While the tide is low and if you are buried in around 22cm of sand, it is possible to feel the hot spring beneath you. There the elderly appear to be making themselves a hole, lying in it and bathing for two hours morning and night.
These days, over 300,000 people come to Ibusuki every year to be buried in sand and experience the onsen.
★More information regarding Sunamushi onsen can be found here→